Torna agli annunci
Stock abbigliamento donna firmato Twin set A/I
Dettagli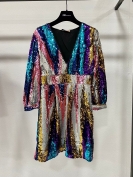 Sito web:
fyostock.it
Info prodotto
Prezzo* € 0,00
Quantità 50

pz

Venditore FYO-FILL YOUR OUTLET (Scheda venditore)

fyostock.it...

Telefono
Cellulare 3770938855 3420202983
Pubblicato il 10/11/2022
* Se non diversamente specificato, i prezzi sono da intendersi iva esclusa.
Descrizione annuncio
lotto da 50 capi abbigliamento donna firmato TWIN-SET. I lotti sono composti da abiti, gonne,bluse, pantaloni, felpe, camicie, gonne, maglie, capispalla.
Descrizione EN
Lot of 50 TWIN-SET women's clothing items. The lots are made up of dresses, skirts, blouses, trousers, sweatshirts, shirts, skirts, sweaters, outerwear.
Luogo dell'annuncio
Altri annunci dal venditore: