Torna agli annunci
Stock Lotto 9
Dettagli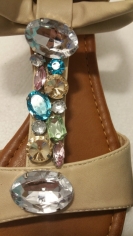 Sito web:
www.azstock.it
Info prodotto
Prezzo: € 2,49
Quantità: 60

pz

Venditore: Azstock s.r.l.s.(Scheda venditore)

www.azstock.it ...

Telefono: 0810609976
Cellulare: 3471453307 3281715504
Pubblicato il: 12/07/2018
* Se non diversamente specificato, i prezzi sono da intendersi iva esclusa.
Descrizione annuncio
Stock Lotto 9 Taglie da 36 a 41 Il minimo d'acquisto è di 60 paia Il PREZZO è di soli…… 2,49
Descrizione EN
Stock Lot 9 Sizes from 36 to 41 The minimum purchase is 60 pairs The PRICE is only ...... 2.49
Luogo dell'annuncio
Altri annunci dal venditore:
Per migliorare l'esperienza di navigazione questo sito utilizza cookies, anche di terze parti, clicca su "consento" per abilitarne l'uso.
Se vuoi saperne di più o negare il consenso a tutti o ad alcuni cookies consulta la nostra
Informativa Cookies
.
OK